Jung and Neumann
Erich Neumann: The Roots of Jewish Consciousness
Edited by Ann Lammers, translated by Mark Kyburz with Ann Lammers
to be published in a two-volume set by Routledge
Read more about The Roots of Jewish Consciousness
The Jung Neumann Conference, Kibbutz Shefayim, April 24-26, 2015

Read more about the conference, and see a gallery of pictures
Symposium at Pacifica "Creative Minds in Dialogue", June 24-26, 2016
Read more about the symposium and see a gallery of pictures
Analytical Psychology in Exile:
The Correspondence of C.G. Jung and Erich Neumann
edited and with an introduction by Martin Liebscher
C. G. Jung and Erich Neumann first met in 1933, at a seminar Jung was conducting in Berlin. Jung was fifty-seven years old and internationally acclaimed for his own brand of psychotherapy. Neumann, twenty-eight, had just finished his studies in medicine. The two men struck up a correspondence that would continue until Neumann's death in 1960. A lifelong Zionist, Neumann fled Nazi Germany with his family and settled in Palestine in 1934, where he would become the founding father of analytical psychology in the future state of Israel.
Presented here in English for the first time are letters that provide a rare look at the development of Jung's psychological theories from the 1930s onward as well as the emerging self-confidence of another towering twentieth-century intellectual who was often described as Jung's most talented student. Neumann was one of the few correspondence partners of Jung's who was able to challenge him intellectually and personally. These letters shed light on not only Jung's political attitude toward Nazi Germany, his alleged anti-Semitism, and his psychological theory of fascism, but also his understanding of Jewish psychology and mysticism. They affirm Neumann's importance as a leading psychologist of his time and paint a fascinating picture of the psychological impact of immigration on the German Jewish intellectuals who settled in Palestine and helped to create the state of Israel.
Featuring Martin Liebscher's authoritative introduction and annotations, this volume documents one of the most important intellectual relationships in the history of analytical psychology.
Turbulent Times, Creative Minds
Erich Neumann and C.G. Jung in Relationship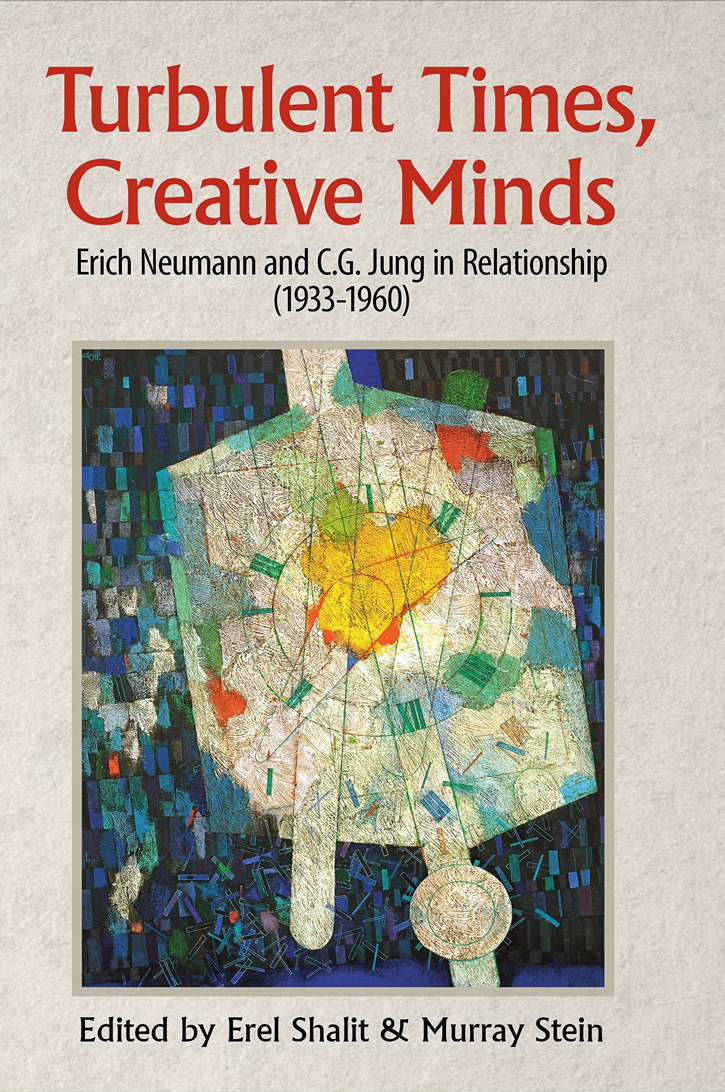 This volume of essays by well-known Jungian analysts and scholars provides the most comprehensive comparison to date between the works of C.G. Jung and Erich Neumann. Reflections are based on their extensive correspondence recently published, their differing cultural backgrounds, and the turbulent times surrounding their personal and professional relationship. Among the many specific subjects discussed are Jung and Neumann on art and religion, their views on the problem of evil, and clinical aspects of Neumann's work. Also included are personal memories of both Jung and Neumann family members.
The book includes exclusive photos from Eranos, and several illustrations in color.
Jacob and Esau: On the Collective Symbolism of the Brother Motif
Cover image from a silhouette by Meir Gur Arieh
Encouraged by Jung, in his book on the collective symbolism of the brother motif, Neumann began outlining ideas that he eventually would develop in some of his major works, such as Depth Psychology and a New Ethic. Neumann uses the story about Jacob and Esau to illustrate the polarities in the human soul, between introversion and extraversion, profane and sacred, the moon and the sun, both in Jewish tradition and universally, and the need to integrate the shadow, as illustrated in Jacob seeing both God's face and his hostile brother in his struggle with the angel. In Jungian terms, we see the inevitable conjunctio of Self and Shadow.
The book can be seen as a brilliant midrash, retelling and interpretation of the Biblical motif of the brothers.
Etching by Jacob Steinhardt
The Jung Neumann Letters Conference: Erel Shalit and Murray Stein in Conversation
The correspondence between C.G. Jung and Erich Neumann, published more than fifty years after their deaths, has been a landmark event in the history of analytical psychology. Following a suggestion by Ulrich Hoerne, Jung's grandson, Erel Shalit organized and chaired the launch of the Correspondence at an international conference with attendees from more than twenty-five countries in kibbutz Shefayim, April 24-26, 2015.
Erel Shalit and Joseph Cambray in Conversation on Erich Neumann
In this fascinating conversation, Jungian analysts Erel Shalit and Joseph Cambray contemplate the work of Jung's colleague and friend, Erich Neumann, a Jewish analyst who introduced analytical psychology to Israel when he fled there from Germany during the years surrounding World War II. Neumann wrote extensively on creativity, the feminine, and the roots of the Jewish spirit. The recent publication of the correspondence between Jung and Neumann has fueled a revival of sorts into Neumann's works. Here, Shalit and Cambray discuss little known details about Neumann's life and work, his motivations for writing, and his art work and paintings. "Neumann brings significant aspects well worth raising into our present consciousness," Shalit suggests, "concepts, ideas, thoughts, notions that have universal value for our world today."
Pacifica Graduate Institute hosted "Creative Minds in Dialogue: The Relationship between C. G. Jung and Erich Neumann," a symposium in Santa Barbara, CA, June 24-26, 2016. Read more.
The Jung Neumann Letters Conference - an Interview with Malgorzata Kalinowska
The Interview was conducted on the 26th of May 2015 in Kibbutz Shefayim, Israel (audio and transcript)
Links to blog posts
The Roots of Jewish Consciousness
C. G. Jung and Erich Neumann: The Zaddik, Sophia, and the Shekinah, by Lance Owens
NEUMANN, RELIGION & THE NUMINOUS: Ann Lammers & Tamar Kron
Erich Neumann:Jacob and Esau - on the collective symbolism of the brother motif
C. G. Jung and Erich Neumann: Paintings from the Psyche
Pictures from the Symposium "Creative Minds in Dialogue"
Paintings from the Psyche - Jung and Neumann
Creative Minds in Dialogue: the Relationship between C. G. Jung and Erich Neumann
The Psychoanalytic Relationship between Israel and Switzerland
Gershom Scholem: Obituary for Erich Neumann
A report from the Jung Neumann Conference, April 24-26, at kibbutz Shefayim
Jung Neumann Conference - THANK YOU ALL!!!!
עופר אדרת: צלה של הנפש היהודית - על ההתכתבות יונג נוימן
The Jung-Neumann Conference, April 24-26
____________________________