Erel Shalit is a Jungian psychoanalyst, author and lecturer in Tel Aviv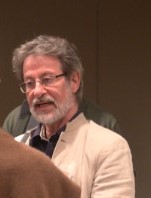 Erel Shalit is a Jungian psychoanalyst in Tel Aviv, Israel. He is a training and supervising analyst, and a past President of the Israel Society of Analytical Psychology (ISAP).
He is Founder and past Director of the Jungian Analytical Psychotherapy Program at Bar Ilan University, and a past Director of the Shamai Davidson Community Mental Health Clinic, at the Shalvata Psychiatric Centre in Israel.
Dr. Shalit has served as liaison person of the International Association of Analytical Psychology (IAAP) with the Jung Society of Bulgaria, coordinating the founding of the Jungian Psychotherapy Program in Sofia. 2010-2013 he served as Honorary Secretary of the IAAP Ethics Committee.
He has served as officer in the IDF Medical Corps, and is a member of The Council for Peace and Security.
He is on the board of the Jung Professorial Endowment, UCLA.
He initiated and chaired the International Jung Neumann Conference, April 24-26, 2015, in Kibbutz Shefayim, and in June 2016 the Jung Neumann Symposium at Pacifica Institute, California.
Erel Shalit is the author and editor of several books, published in English, Hebrew, French, Swedish, Czeck, Polish, Bulgarian and Russian.
For a compilation of books, chapters, and essays, please see 'Writings'. For YouTube and other online presentations, lectures and interviews, please see 'Online'.